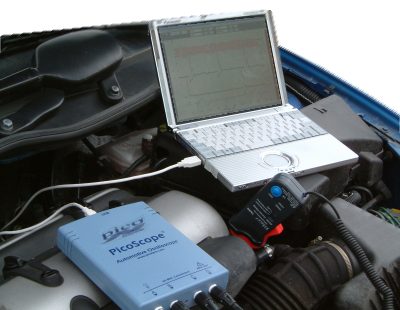 Listed below are some detailed application notes that describe automotive applications for Pico products. You can also view the automotive tutorials section and the library of automotive waveforms, that contains a large number of example automotive waveforms.
If you have any automotive applications that you would like to share with others, please e-mail them to us.
All About Lambda Sensors
This application note describes the main difference between two common types of lambda sensors, sample waveforms and problems that can be caused by faulty sensors.
"Injection Detection"
This article, published in the June 2005 issue of Professional Motor Mechanic, shows you how you can track down faults in electronic fuel injection systems using an automotive oscilloscope.
Crest of a Wave
This application note, first published in Professional Motor Mechanic magazine, looks at how oscilloscopes can be used for fault finding on modern vehicles.
Electronic Throttle Control
This application note by Auto-Solve looks at why electronic throttle actuation is preferable to a conventional throttle cable
Pico Technology Ensures Triumph Engines Don't Miss a Beat
This application note by Wilcox Competition Engines looks at how Pico data loggers and oscilloscopes have been used in the development and testing of engines.
Using Automotive Probes: Current Clamps
This application note looks at how current clamps can be used to measure starter current, charge/discharge current and also be used to perform a quick compression test.
Using Automotive Probes: Secondary Ignition Pickups
This application note looks at how secondary ignition pickups can be safely used to display ignition waveforms.